Hill of Tara - Update 2017
The Tara Skryne Preservation Group (TSPG.org) has emerged as a leading initiative working to protect the Hill of Tara environs in Ireland.
– Take a look at their Green Hearts for Tara, 2017 Strategy (pdf)
– Wear and display a Green Heart for Tara during St Patrick's Day celebrations!
– 'Like' the TSPG Facebook page to follow developments at the Irish government Petitions Committee.
– Download an A4 sheet with 6 small Green Hearts for Tara pdf format for use on lapels or handing out as flyers.
Please show your support by sharing as widely as possible.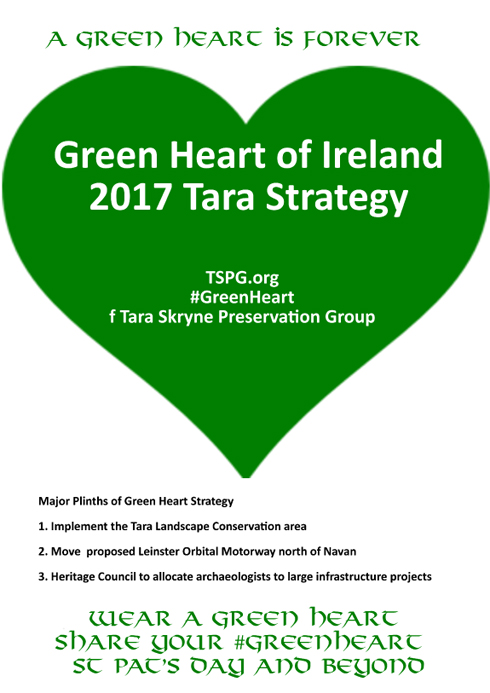 The Hill of Tara
"Tara is, because of its associations, probably the most consecrated spot in Ireland, and its destruction will leave many bitter memories behind it."
W. B. Yeats, et al., in a letter of protest to The Times, 27th June 1902, when Tara was last threatened.
The Harp That Once Through Tara's Halls

The harp that once through Tara's halls
The soul of music shed,
Now hangs as mute on Tara's walls
As if that soul were fled.
So sleeps the pride of former days,
So glory's thrill is o'er,
And hearts that once beat high for praise
Now feel that pulse no more!
No more to chiefs and ladies bright
The harp of Tara swells;
The chord alone that breaks at night
Its tale of ruin tells.
Thus Freedom now so seldom wakes,
The only throb she gives
Is when some heart indignant breaks,
To show that still she lives.
Thomas Moore
(1779-1852)

IRELAND'S SHAME:
A SUPERHIGHWAY ACROSS THE HILL OF TARA
By T.S. Kerrigan
'What's next, a shopping center connecting the Lakes of Killarney? A strip mall in Dingle? Unprincipled people seem to be in charge of Ireland's cultural future... .' Click here to see the full article.

Download or listen to an MP3 of the traditional pastoral song about the Skryne Valley, near the hill of Tara, "The Verdant Braes of Skryne".

Download or listen to an MP3 of the traditional song "Rocks of Bawn".



It's looked like this for 7000 years ...



Unless we do something...NOW!
...It will look like this! ...for ... EVER!


"…an act of cultural vandalism as flagrant as ripping a knife through a Rembrandt painting" Professor Dennis Harding, Department of Archaeology, Edinburgh University

Harding's powerful metaphor comes closest to expressing the horror felt by many at the prospect of Tara being brutally 'excavated' by machine, and then straddled with a four-lane toll road and a fifty-acre interchange....


Join the growing world-wide grass-roots movement to protect the Hill of Tara. Support the Tara Skryne Preservation Group by helping to network their information.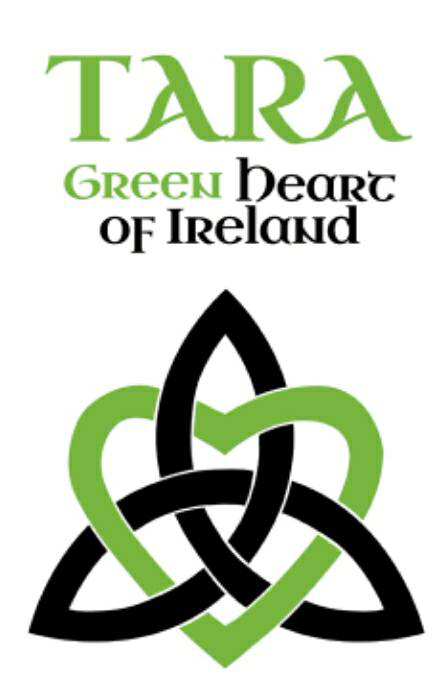 Designed by Noëlle LeFay - 2017
What has Happened to Ireland's Sovereignty?
By Maireid Sullivan
This report was published in the July-September 2012 edition of Progress Magazine.
A shorter version was published in June 2012 edition of Tintean,
the quarterly journal of the Australian Irish Heritage Network.
Excerpt:
The campaign to redirect the M3 tolled motorway away from the Hill of Tara, in Ireland, marked the beginning of my understanding of land banking and the speculative developers' 'boom-bust' business model. >>> more